Family and Friends,
In May of 2015 while making our slow way up the Mississippi River on one of our travel adventures, we stopped for a couple of hours at the spot where the Missouri River flows into the Mississippi near Machens, Missouri. Heading down the path toward the mingling of waters, Keith was gazing into the treetops looking for warblers when Cheryl happened to spy a sign marking the eastern terminus of a long-distance bicycle trail. "Hey," she said, "that might make an interesting ride." His eye on a tiny bird flitting through the leafy canopy, Keith mumbled "Umm-humm," or words to that effect. "In fact, that's what I want to do for my seventieth birthday!" Cheryl chimed. "Nashville warbler!" Keith announced triumphantly, and we walked on to see the Mighty Mo dumping its muddy waters into the Mississippi.
Fast-forward to a recent morning in west-central Missouri and we're mounting our bikes for Cheryl's interesting ride. As she pedals away from the trailhead to begin the 238-mile-long Katy Trail, Keith brings up the rear. The lovely song of a Carolina wren bids us bon voyage from a trailside thicket, there's a fresh breeze stirring and the finely crushed gravel sings beneath our tires. When the odometer on the handlebars clocks the first mile, we congratulate ourselves on finally being underway.
<![if !vml]>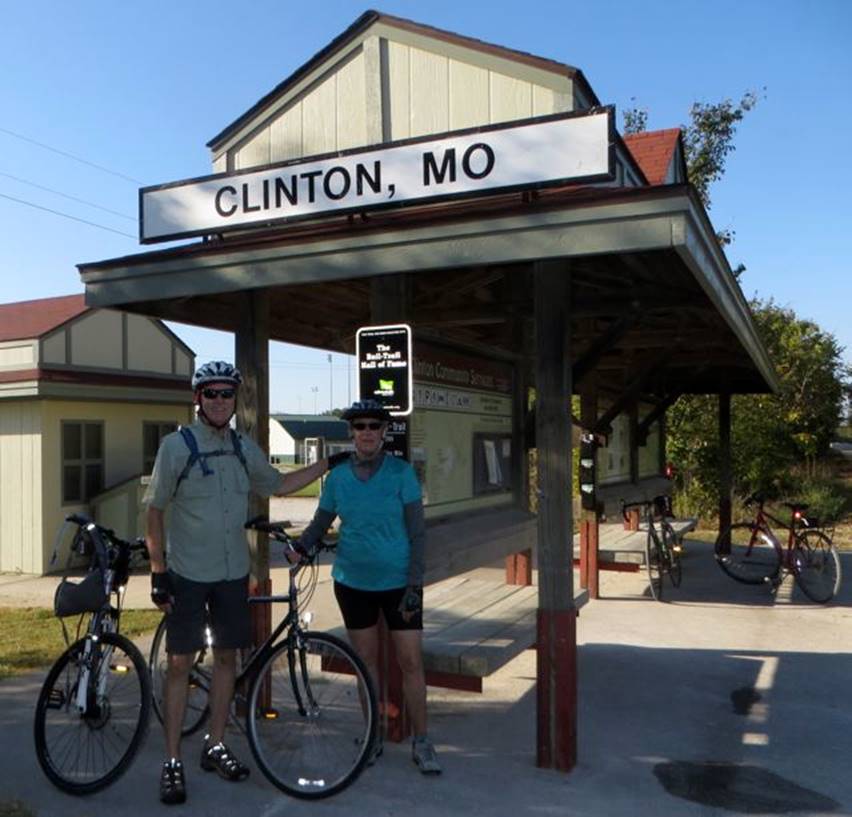 <![endif]>
From the western end of The Katy Trail at Clinton, Missouri, we'll follow the former route of the Missouri-Kansas-Texas Railroad.
<![if !vml]>
<![endif]>
And we're off! Affectionately known since the days of steam as The Katy, it's now the longest rails-to-trails bike route in the country.
The Katy attracts biking enthusiasts from all over, among them some seriously hard-core cyclists. They ride high-dollar bicycles, their lithe bodies cling-wrapped in Spandex togs so colorful they'd make a songbird blush. Michelangelo could have sculpted their tanned calves and quadriceps. Some will ride the trail in just a few days. (The Katy speed record was set by one such fellow who rode its entire length in a single day between dawn and dusk.) We, on the other hand, might charitably be called soft-core cyclists. In fact, our cores are getting softer with every passing year. Twenty-five miles in a day is a pretty good ride, we figure. Though we've worked to get our pedaling muscles in shape, a busy summer kept us from riding as much as we'd hoped and on Day One we're both feeling a bit nervous about the task Cheryl has set for us. Under smiling skies, the trail stretches away eastward, the scenery is bucolic and in a couple of miles our apprehensions begin to melt. Shirtsleeve weather makes it a great day for a ride and we're looking forward to our adventure.
Cheryl's been pretty much all about The Katy for months and we set off with a carefully organized itinerary thanks to her intense planning and preparation. She's researched the trail and all the attractions along it, arranged to have our truck and trailer shuttled ahead to our destinations for the longer day-rides, figured out where we will do shorter self-shuttle segments, reserved campsites, and, in the last week before departure, prepared a freezerful of meals in advance. Keith figures he'll fix the flats.
<![if !vml]>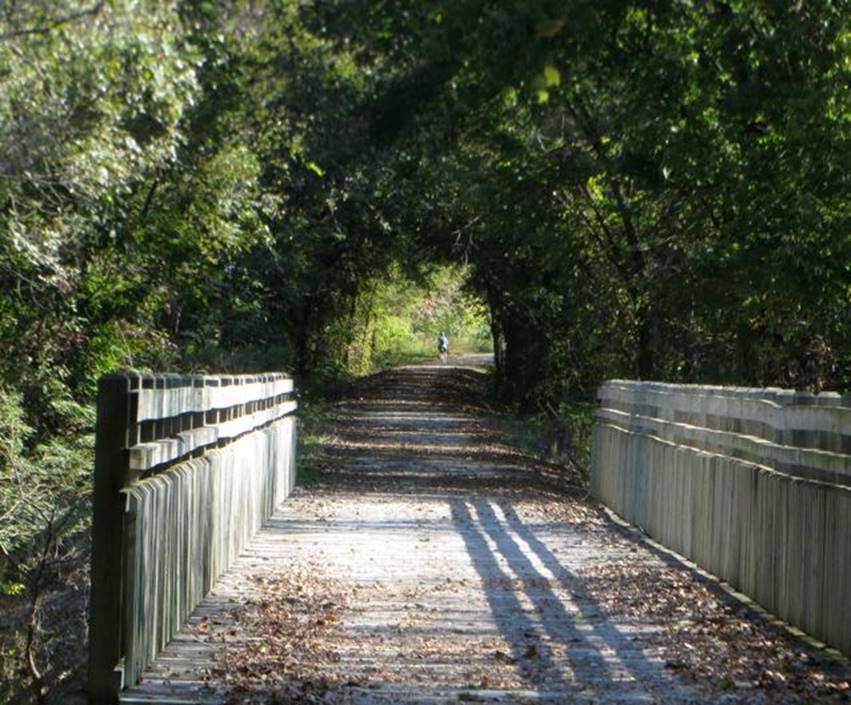 <![endif]>
The trial is a serene place that we usually have to ourselves–a cyclist's fairy land.
Our first days out of Clinton see us across the rolling Osage Plain and into the hillier Ozark Border region, always on gentle grades laid out a century and more ago by those meticulous Missouri-Kansas-Texas surveyors. Along much of the trail the old rail bed is overarched by a gallery forest and we ride through an oh-so-delightful sylvan world that hides the corn and soybean fields just beyond the trees. In other places, shady woods stretch into the dim distance. On rusting iron trusses and new plank bridges, we cross creeks and sloughs whose slow moving waters ripple beneath a leafy canopy ringing with birdsong.
<![if !vml]>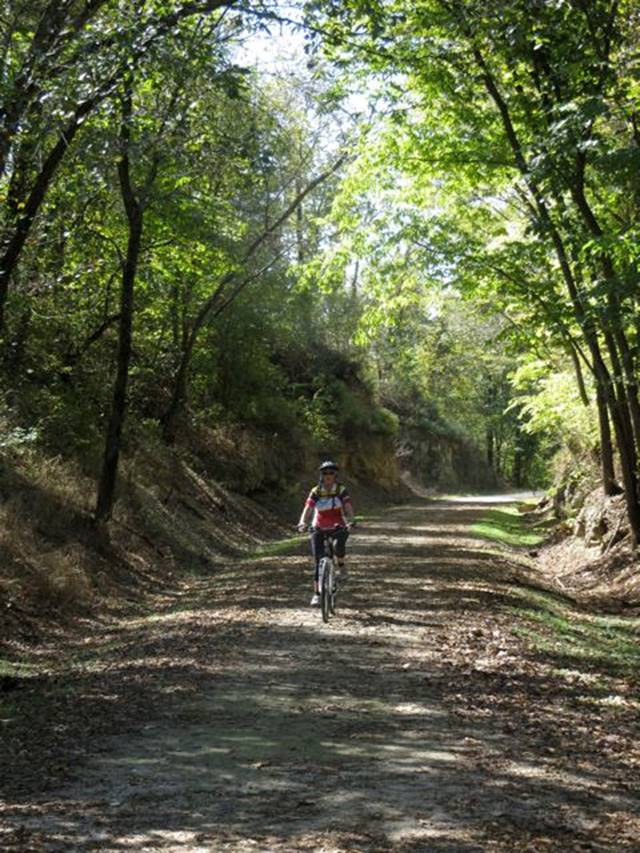 <![endif]>
Now and again we come to tiny towns still clinging to life along the once-busy line, their historic brick buildings crumbling or repurposed to some lesser use than the bank or mercantile store they once boasted. These hamlets have turned their backs on the old rail line and what little commerce that still exists now fronts the county road or state highway running a few blocks away. It's a bit of a jolt to pop out in a bustling place like Sedalia or even tiny Pilot Grove where corn-laden trucks came laboring in from harvest fields beyond the town limits, their engines roaring under their heavy loads. We pass Calhoun, Windsor, Green Ridge, quiet places all. At Camp Branch, Pleasant Green and other spots, signs mark the location of tiny burgs that have vanished entirely. A few turns of the tires and we're back in quiet woods. We eventually conclude that The Katy itself is a separate back-world, existing parallel to but very much apart from the present century. We love it.
<![if !vml]>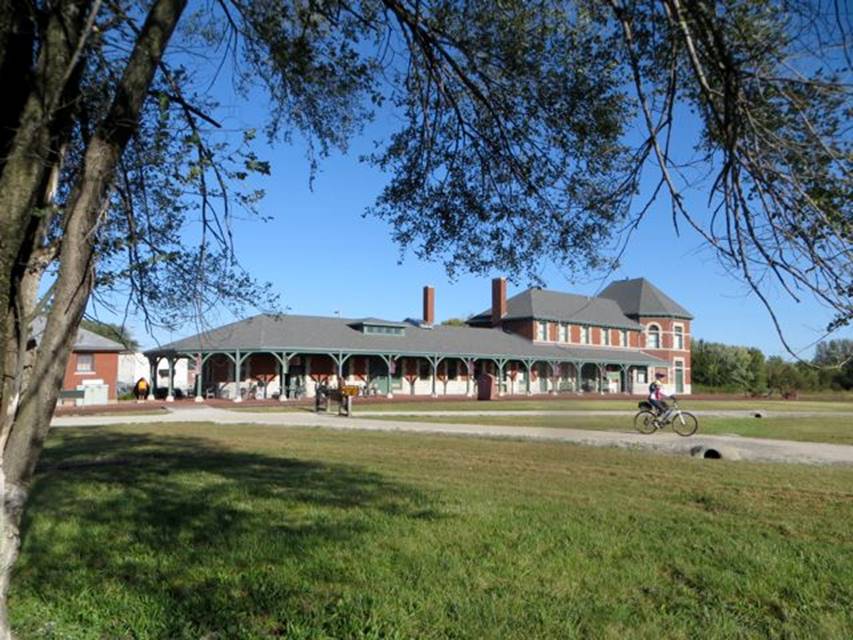 <![endif]>
Leaving Sedalia, we cycle away from the historic depot which has been restored to immaculate condition and is home to an excellent railroad museum and a bicycle shop.
A chilly fourth day of pedaling brings us out of hilly country and down to the Missouri River.
<![if !vml]>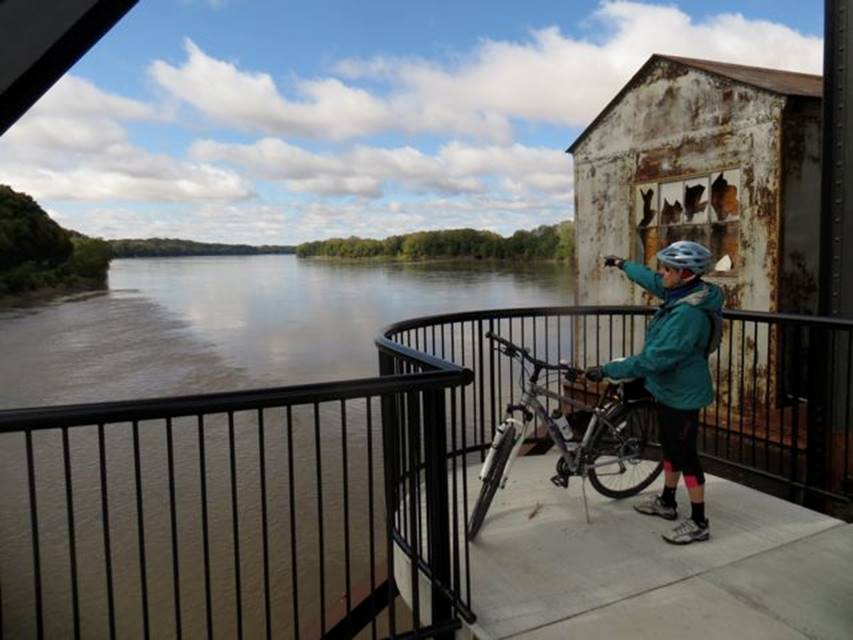 <![endif]>
At Boonville on the banks of the Mighty Mo, we intersect the upriver route of the Lewis and Clark expedition and Cheryl strikes a pose reminiscent of signs marking their journey. The MKT RR originally crossed the river here on a long iron span. It was set for demolition until locals raised a fuss. Restoration is underway and cyclists can ride out toward the middle on the completed portion. The Katy will someday cross the bridge once again, but until then the trail shares a nearby highway bridge to make the crossing. It's the only place in 70-plus miles where we've shared the trail with auto traffic.
We tell people that we're attempting to set the record for the slowest transit of The Katy, which, if things work out as planned, will take a goodly chunk of October. We'll keep you posted as Cheryl's interesting ride continues.
Regards,
Cheryl and Keith
<![if !vml]>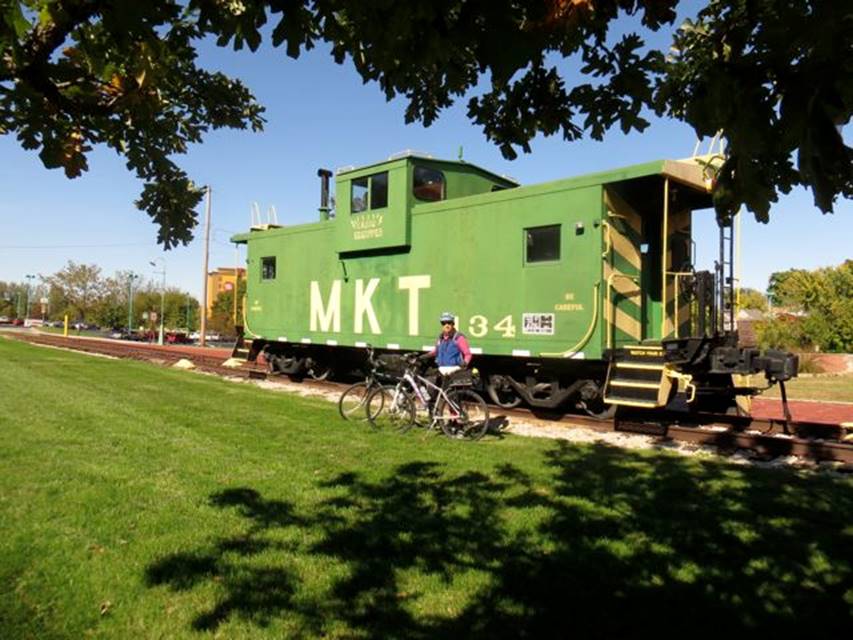 <![endif]>